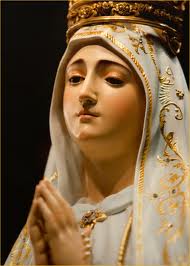 Every week the Pilgrim Virgin statue visits a different home in the Dubuque area. The primary purpose is to aid families in responding to the requests made by Mary during her apparitions at Fatima: to return to God; to make reparation for sins; to pray the Rosary for peace.

Return to God. This means to turn away from sin and obey the Commandments.

Make reparation for sins. This means to practice some form of penance and sacrifice in atonement for our own sins and the sins of others.

Pray the Rosary for Peace. At Fatima the Blessed Mother asked us to pray the Rosary every day.

During the week the statue is in their home, the family prays the Rosary each night at 7:30 pm. It is customary to invite your extended family, neighbors, and friends to join you.

The Pilgrim Virgin Statue is brought to the home on Saturday afternoon by the Honor Guard (8-10 men) who pray the rosary during the transportation. When they arrive at the home, they pray one rosary together with the family. If this is the first time the Pilgrim Virgin has come to this home, the family is enthroned in The Sacred Heart of Jesus guild.
Pilgrim Virgin Statue Schedule
Contact us to schedule the Pilgrim Virgin Statue at your home.