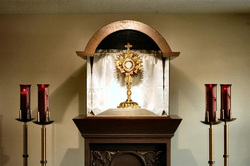 The Adoration Chapel is open 24 hours a day, 7 days a week. There are two programs running concurrently - Perpetual Adoration and the Perpetual Rosary. Two adorers are scheduled for every hour, one person prays the rosary for thirty mintues while the other person prays silently. At the half hour they switch. This ensures both programs are continuously going all 24 hours.
We are in need of Regular Adorers and Subs!
Please contact Melissa Tittle for more information.
Melissa Tittle, contact@powerofprayerdbq.com, 563-564-6365
Adorer Scheduling
CLICK HERE to see availability times for adorers.
Directions to the Power of Prayer
The Power of Prayer is located at 1860 St. Ambrose St., Dubuque, Iowa.
It is two doors away from St. Anthony's Catholic Church.